In the past years a lot of doctors understood the power of Medical Search Engine Optimization and started looking for specialized companies that provide such a service.
Since doctors are usually busy people and proper medical SEO work is a tough specialty in itself (requiring a lot of study and work to get it right), it's easy to understand why they needed help.
As demand increased, so did the number of people who provided SEO services, the issue is that not all are legit or using 'clean' techniques.
Sometimes the search engine optimization work is done so poorly that the client would  have done better without it.
Let's try and see which are the signals that can show you that your SEO company might be ripping you off: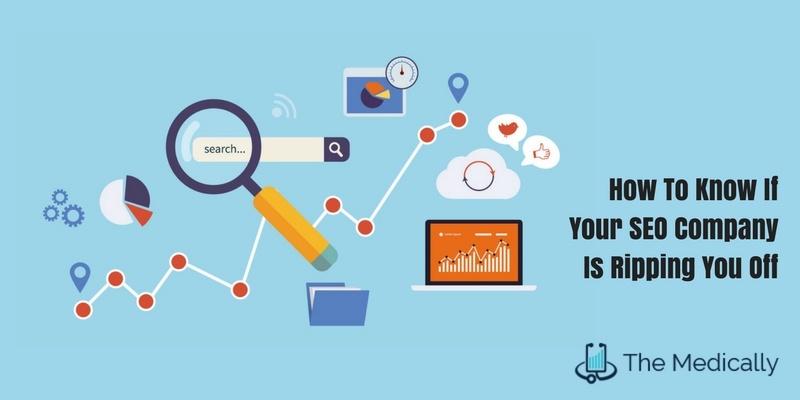 Your website is (still) not responsive
Most of your visitors come from mobile devices: smartphones, tablets and fewer from regular computers. This means your website should be created to display properly on these small screens.
We call these websites responsive or mobile-friendly.
Since Google has started favoring mobile websites in its search algorithm, a SEO company that hasn't yet helped you run a responsive website is just taking your money for nothing.
Duplicate (stolen) content
Few years ago I started publishing few articles on my Orthodontics blog I was running. After 3 years spent in braces, I wanted to share some of the experiences I  had.
To my amusement, 2 of my articles (depicting the various orthodontic braces available now) were copied on 2 medical websites. The orthodontists who ran the 2 practices knew SEO is important and so is medical blogging, this is why  the hired specialized companies.
The problem is they were being ripped off, by having stolen articles published on their medical blogs, instead of fresh content that would allow their practice to get a better image online.
Quick tip: find out if your medical articles have been published elsewhere: www.copyscape.com
Your links appear on many irrelevant websites
We all know that one of the most effective SEO tactics to get higher into the search engines is to get as many quality links to your practice's website.
Some of the scammers in the SEO world also know link building is important, but, instead of trying to help you attain a good ranking with links that are well related to your niche, are posting your links on all kinds of websites that will do more harm than good: link-farms, low quality websites etc.
A very simple search on the MOZ Open Site Explorer page will allow you to see if your links appears on the right type of websites or not. Just go to https://moz.com/researchtools/ose/, enter your domain name there and, as you'll find out what DA and PA you have (Domain Authority and Page Authority), look in the left panel and click on LINKING DOMAINS.
Are there medical related websites that should be linking to you? Or not?
Your medical SEO company only cares about vanity metrics
Vanity metrics are not important, although many SEO companies try to impress you with them. Big website traffic, a lot of Facebook likes, a good Alexa rank.
Let's take them one by one: website traffic means nothing if you cannot SELL. I have clients who were making little money each month, with HUGE traffic sites and could barely pay their hosting.
There are also clients who have 30-40 visitors/day, from which a lot convert into clients. They pay almost nothing for a hosting account and their business has grown tremendously, because most of the people who see their site also 'buy'.
Facebook likes are useless as well, if you cannot get those people to come to your practice and PAY money. And paying for Facebook like campaigns has been proven to be as useful as smoking. You'd better burn the money when you barbecue with your friends, it's almost the same.
Alexa rank has never been relevant for the experienced webmasters, since it's easy to manipulate and, again, doesn't sell.
So, if you'll get companies who boast about bringing you herds of Facebook fans or a gazillion of website visitors, be wary.
I'd rather hear about conversion rates, targeted traffic and doubling/tripling my business. You probably feel the same.
These are just few of the signs you are being ripped off by your medical SEO company. What else would you add?