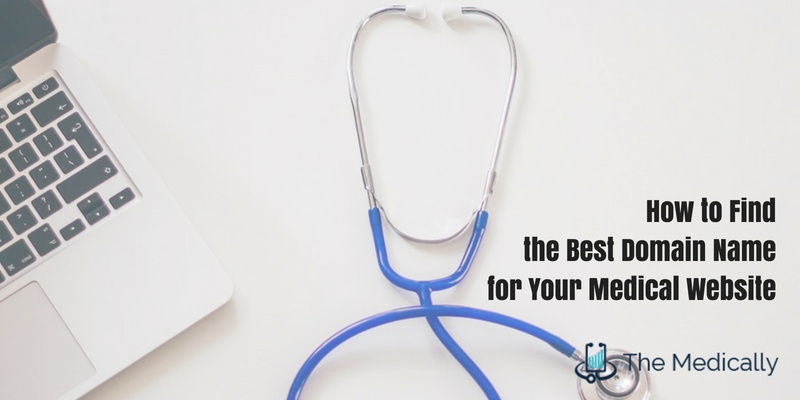 What is a medical domain name?
TheMedically.com for instance. Or Orthodontic-Braces.com. Or New-York-Doctors.com
A domain name is the 'name' we'll type in our browser to go to your medical website. As you can guess, a bad medical website domain name can and will hinder your medical marketing efforts.
A great one will speed up your online success and get you more patient bookings.
How can a badly chosen medical website domain name affect your website negatively?
When your domain name is too long or too weird, people will not remember it.
I have 3 examples and, unfortunately, one is mine:
Bad domain name – example no.1: Local web design company with badly spelling
A local company advertises its web design business at the local radio station.
They are paying top bucks to have their ad broadcasted at least 10 times in a day. I pay more attention to it, since they are my direct competition, and I'd like to look at their website.
After hearing the ad once again, I happen to be at home and ready to look for their site.
I type the domain name as I hear it (and how it's correctly spelled) and nothing happens. Hmm, that's weird. I type it again and I get a domain not found error again.
Fortunately for me, I do remember their phone number and type that into Google.
There is a site, but the domain name is not the one I'd have expected.
They changed a letter, to be cooler I presume, but have succeeded in making their ad almost useless, since people would type in the address properly spelled.
Say their domain name was maximum.com and they chose maxinum.com. Weirdly enough, the correct one was available.
Anyone who would hear their website address on the radio, would type in the correctly spelled version, which, unfortunately for them, is not what they paid for.
Bad domain name – example no.2 – A local cafe with a weird name
Another local business is advertising a posh cafe at the radio station we usually listen to.
The name is so weird and badly pronounced I can't understand it.
Husband has an easier time figuring it out, but only because the company he used to work for has their headquarters near the cafe. He knows the cafe and figures out it's them promoting on the radio.
Money 'well' spent once again, if only a part of the radio audience will know what the ad is about.
Bad domain name – example no.3 – My personal blunder
My first website was called dojo.ro.
Do-jo is a pretty easy word for someone who's been into martial arts, but others pronounced it like 28 (in Romanian it sounds similarly to dojo).
Fortunately for me, I realized this before spending an insane amount of money on radio advertising, so I also decided to create my medical website design portfolio on a better domain name: themedically.com
These are just 3 domain 'bloopers' that are clearly NOT helping those businesses getting ahead too much.
And, since we focus on making the most of each opportunity, in order to grow our businesses as much as possible, I'd like to share few ideas of how your medical domain name can help you grow your medical business online.
How to get a great medical website domain name
Try to get an expired domain name instead of a new one
If you're looking for a good new .com in any niche, good luck with that.
For years I was trying to get a decent domain name, after doing keyword research and got some pretty bad choices to make. Or, I had to give up the idea of a .com and get a new TLD like .today, .online or .design.
Don't get me wrong, I got some cool names, but still not as good as a .com
Months ago I started reading more about proper domain name 'hunting' and discovered expireddomains.net.
I created a free account there and started looking for expired domains. Phew, what an improvement.
There are domain names you can buy at premium prices (if you can afford it, some are really awesome deals), but I chose to just purchase domain names that are now free to register and once were owned.
This means I pay only 11 bucks or whatever Namecheap is currently charging for new domain names registration
I got Orthodontic-Braces.com (a clear improvement from orthodontics.today for instance – not to mention I get my main keyword in it), New-York-Doctors.com and even this one, TheMedically.com.
Not all are perfect (some have hyphens, which is usually a no-no), but they are still miles away from what I could find on my own, trying various keywords and combinations and not knowing about these expired domains.
Weird enough, my best performing site to date (pftoday.com) was once active and then expired. I chose it out of sheer luck (after trying combinations with personal finance and then choosing the acronym instead to make it shorter and more memorable).
People should be able to properly type your domain name, after they hear you pronounce it
We get back to my 3 examples about the radio ads with domain names and business names that are close to impossible to type in correctly.
Once you have your mind on few domain names, tell your spouse or your best friend about it and ask them to type in the address.
If they get it wrong, chances are your target clients will do the same, so you should try a better route.
This is the reason why it's not advised to use domain names like love4u.com (since people will clearly type loveforyou.com) or mause.com instead of mouse.com. You get the idea, don't be too clever when it comes to a domain name.
Aim for the top TLDs: .com, .net, .org
Ideally you should hunt a .com domain name.
I know there are new extensions and some of them are sooo cool, but stick to what has worked for decades.
If you cannot get a .com domain name, look for a good .net or .org, but don't forget: most of the time people will type in the .com extension.
Don't rely on free hosting platforms and their subdomain system
pftoday.wordpress.com or pftoday.blogspot.com are not memorable and I'd just be wasting my time with them.
A domain name is so cheap these days, so it's a decent cpanel hosting.
Don't rely on wordpress.com, blogspot.com or wix.com to manage your website, get yourself a proper hosting plan and you'll thank me later.
Follow these 5 formulas for better domain names
Here is how to look for great domain names to suit your medical business perfectly:
• domain name names the main benefit – ImprovingEDcare.org
• domain name has the main topic in it – orthodontic-braces.com
• domain names contains your name (if you want to brand yourself better) – ramonajar.com
• domain name clearly names your main audience – new-york-doctors.com
• domain name states the main mission – sciencebasedmedicine.org
These are just few tips for being successful with your medical domain name registration. If you need further tips and support, drop us a line at office(at)themedically.com and we'll d our best to guide you.