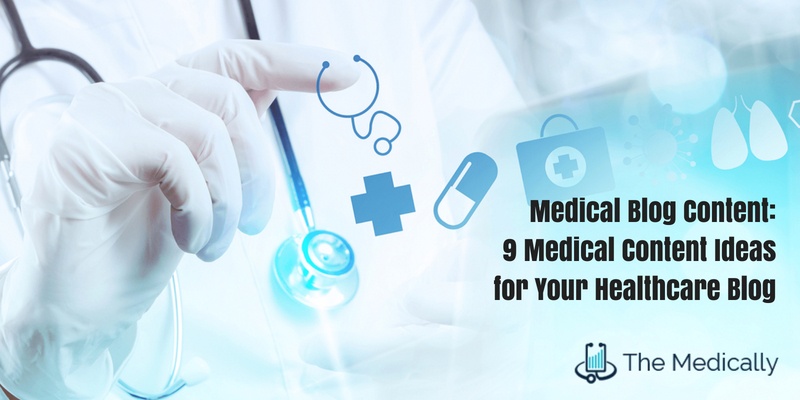 A medical blog is one of the best ways to ensure a constant flow of visitors to your medical website and to build a strong following on social media.
Well written medical articles have proven to work for medical businesses over the years and our clients, who employed this strategy saw a drastic increase in their patient bookings and placed higher on Google and other relevant search engines.
OK, I'm convinced, you'll say. But how can I produce medical content and publish it at least every 2-3 weeks, if not on a weekly basis?
For a busy doctor, writing medical blog content can become a hassle, you'll lack inspiration and the time to come up with topic ideas.
Here are 9 healthcare blog content ideas that will help you constantly create engaging articles:
Share information about a medical condition
Are you a Gynecologist? Write about molar pregnancy, stillbirth, menopause and any medical conditions you find relevant for your audience.
If you are known to have successfully cured cervical cancer or would try to push this side of your medical business forward, for instance, create medical content around this illness.
If the bulk of your patients are pregnant women, why not create content about pregnancy?
By writing useful and compelling articles about the main conditions your patients are interested in, you'll set yourself as an authority, educate your patients and help them find answers to their questions.
When these patients are already accustomed to reading your information and know you are such an expert, chances are they'll find your website high on Google and choose book an appointment with your practice.
Explain medical procedures
When I was discussing the idea of having a C-section vs. a vaginal birth, I also took the time to learn about both deliveries. I looked at videos, read countless articles and blog posts until I decided.
Before my eye surgery, I, again, scoured the internet for as much information and images/videos as possible.
Use video content, when applicable, write articles and provide good photos that help your patients find more details about the most common procedures in your specialty.
We'll use the Gynecologist example once again: you can explain how a Pap smear test is performed, how to plan for a vaginal delivery etc.
Write about something new in your medical specialty
If you got into the habit of following your medical specialty latest developments, you'll be able to also write the news on your medical blog.
Maybe a new medicine has been launched that could cure a disease your patients face, maybe there is a new surgical tool that allows you to perform better surgeries etc.
If anything noteworthy is happening in your specialty, write about it.
Your patients might like to know about it.
Even if they do not care about that medical advancement too much, you can still rank well for those keywords and it won't hurt your search engine optimization efforts.
Curate content on your medical blog
List articles are always enjoyed by readers and it's easy to prepare them. All you have to do is find those high quality resources, write few sentences about them and link to them.
Curated content should be published from time to time, the bulk of your medical blog posting should still be your own content.
Create a medical infographic
Infographics are very popular these days and can easily share any type of information you wish to.
From finance related infographics, to productivity, web design and even medical topics, they are ideal to provide information snippets to your target audience.
They are visual tools that get shared a lot, if well done, so this should translate in increased website traffic and links.
Create a medical poll
People love to have an opinion, so medical polls are always a great way to engage with your audience.
Start polls about medical conditions, their views on vaccination, therapies etc.
Not only you'll make your readers get involved with your medical website, but this will also give you more insights about how your potential patients think.
Announce a new product or service
I always tell my marketing clients their potential clients don't care about their mission or business vision, but only care about 'what's in it for them'.
It's normal, we are egocentric beings after all.
This is the reason why we should try to create the bulk of our medical content based on what your potential patients care about (medical conditions and procedures) and less about your healthcare business.
But, if you already have a well written medical blog, they won't mind finding out about what's new with your practice, as long as you don't overdo it.
So, every once in a while, when there's something noteworthy happening, you can share it with your audience and chances are they will care.
Write about health events
Doctors usually attend various conferences and medical events.
Why not blog about them?
Write about these events and, if applicable, you can even give your readers special codes for purchasing tickets at reduced rates via your medical blog.
Once the medical conference is over, you can create an article about the event highlights.
There you have it: another healthcare blog article just like that.
Invite guest posters or medical content writers
If you still don't have the time to manage your medical blog and create compelling content every week, you can have fellow doctors write for you, in exchange for exposure.
Proper medical content marketing takes time and effort, so, if you want to take it off your back, you can always have a professional do it for you.
Your only job would be to approve the topics and then correct any medical mistakes that appear.
We have successfully done this before with our medical clients and it saved them a lot of time, while also pushing their healthcare up in the search rankings.