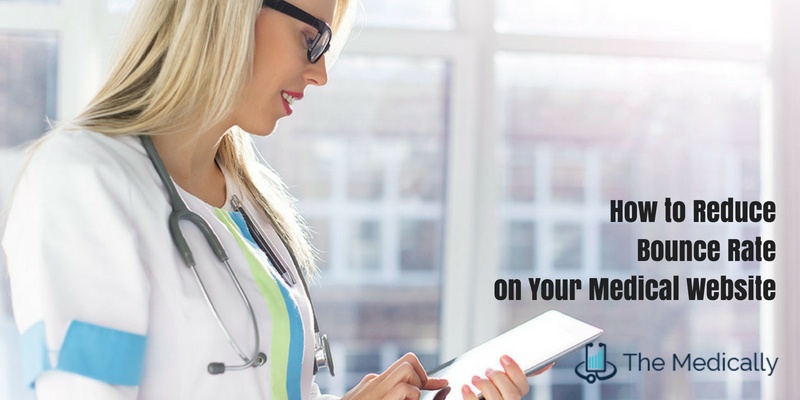 You have  created your medical website, are probably writing a medical blog and tracking your online success. Chances are you have installed Google Analytics on your website and are watching your stats like a hawk.
In short time you'll notice that some people visit your website and, after seeing only one page, leave.
It's normal for people to come to your website (especially when they visit from social media links for instance or just search for something on Google), 'land' on a page and then move onto another website.
They didn't find what they were looking for, they disliked the copy, there were errors on the page etc.
We call this bounce rate, meaning the percentage of visitors who land on your medical website and then leave, without viewing a second page.
Bounce rate appears clearly on your traffic statistics on Google analytics and, while there are legitimate reasons for someone to not engage further with your website, we should still put in an extra effort to reduce your bounce rate.
Is there an ideal bounce rate?
People in various industries have different ways to view this and what seems catastrophic for some, is a great number for others. On average, here are some numbers:
80%+ is very bad – if your medical website has a bounce rate over 80%, there are clearly ways to improve.
70 – 80% is poor – it's not catastrophic, but you can still try and get a better number.
50 – 70% is average – most well cared for websites have their bounce rate in this range.
30 – 50% is excellent – if you can get it under 50%, you are doing an awesome job.
20% or below is likely a tracking error. Your statistics code might not work properly or you are a conversion god 🙂
How to reduce bounce rate on your medical website
Now that we know what's 'cooking' under your website's hood, let's see if we can improve your bounce rate a little.
1# Don't use pre-loaders
You type in an website address and see nothing but a slow ticker that displays a loading percentage. 0%, 15% etc.
If you are patient, then you'll wait for the website to load. If you are like me (and many other people), you'll just close your browser window and look for something else.
The moment someone lands on any of your pages, they should see SOMETHING.
Your logo and menu, few words in the 'hero' section etc.
Your background images or other media might load slower (especially if the visitor has a bad internet connection), but it's OK, as long as they have something to rest their eyes on.
This is the main reason why Flash animation never really made it on websites, they are a conversion killer, people just don't have the patience to wait for all this to load.
If you are using a WordPress theme that has a preloader, inactivate it and save your visitors the agony of waiting for seconds to the content to load.
Speaking of speed …
2# Improve your medical website's loading speed
If your website takes 'ages' to load, your bounce rate will skyrocket.
Find a better web hosting company, resize your images, use a very clean and speedy theme, optimize your images, maybe use a CDN (Content Delivery Network), anything that would allow your website to load faster.
Page Speed Insights from Google gives you clear indications to improve your medical website the loading speed.
3# Start a medical blog section
Tired of me telling you how important a blog is for your medical website?
Sorry, I'll say it again "YOU NEED IT!".
---
Related article:
---
If you have more content than just the about us, services, testimonials and contact information on your website, chances are people will stay longer on it and read more.
Your healthcare blog, with tens of articles about medical conditions, treatment options and the latest in the medical industry is a great tool to keep your visitors engaged and consume more information.
4# Make your content easier to scan
Notice I used scan instead of read?
This is because people don't read the information online as if they were reading a book. They are scanning.
Use short sentences. Images. A lot of white space. Lists. Headings.
Make it easier for your medical website visitors to consume your information.
---
Related article:
---
5# Clean up that sidebar
Most websites still have their content split in 2 (or even 3) columns. You had the wide column with the main content and a narrow one in the right or left (we call it sidebar) with the latest posts, a subscription box, links to partners etc.
Leave only few items in your sidebar (maybe a big newsletter signup section, or a form for potential patients to book an appointment) and delete the rest.
Or just give it up entirely, as we did with our blog, for instance, leaving only our main content for your enjoyment.
6# Have a clear CTA
A Call to Action (CTA) is vital for each of your pages.
Don't just create your medical website without an aim, think what you want to achieve with each page.
Do you want people to sign up to your medical newsletter?
Do you want them to book an appointment?
Come to a medical event you are hosting?
Whatever your goals are with your website visitors, make sure there is a compelling and clear button or form that allows them to reach that goal you have created.
7# Keep your healthcare blog constantly updated
A great strategy to keep your visitors coming back and engage them in more than just a page on your website is to have a great blog, updated constantly.
Some practices update their medical blog every week, others write one article every month or even 2-3 times/week.
Whatever your writing schedule, make sure you are keeping it constantly updated and people will come back and read more.
8# Add a related articles section under each medical article
A really nifty hack for better conversions is to have a section, under your articles, with 3-4 links to other similar blog posts. We also add related articles within our main article (such as this one).
Chances are people will click on these links to find out more about a certain condition or treatment options for their illness and this will mean your bounce rate will go down.
9# Have a mobile-friendly medical website
Don't settle for a website that has some optimizations done for mobile. Remember that many of your potential patients look at your website from a tablet or a smartphone, make sure it's easy for them to navigate and reach you.
If they visit your website and it doesn't display properly, chances are you have lost the chance to engage them more.
10# Set external links to open in a new window
If you link to another website from your medical blog, for instance, make sure the links open in a new window. This way the visitor sees the new website and also has your website in a browser window.
11# Include social proof
Got any testimonials to show? Maybe logos with important medical companies you have worked with? Accreditations? Diplomas? A huge number of facebook fans? A lot of email subscribers?
To this day people still want to be awed by authority and chances are they will stay longer on your website (and probably book an appointment with you or just join your newsletter) if you can show them you are an authority in your field.
12# A/B test everything
Did you know that changing the wording on your subscription form, for instance, can get you more subscribers? Or changing the color of a button from, say, blue to orange?
Even small website tweaks can decrease your bounce rate tremendously.
Test various layouts for your main pages and see which changes perform better.
13# Have a clear and simple navigation
Remember those huge drow-down menus you see on some websites?
If you have one now on your medical website, please change it NOW. The more links you have there, the bigger the chances for your visitors to be overwhelmed and just leave.
Keep only the most important links in the top section and move the rest in the footer.
These 13 quick website fixes will help decrease your medical website bounce rate and get you more patient bookings and/or email subscribers.