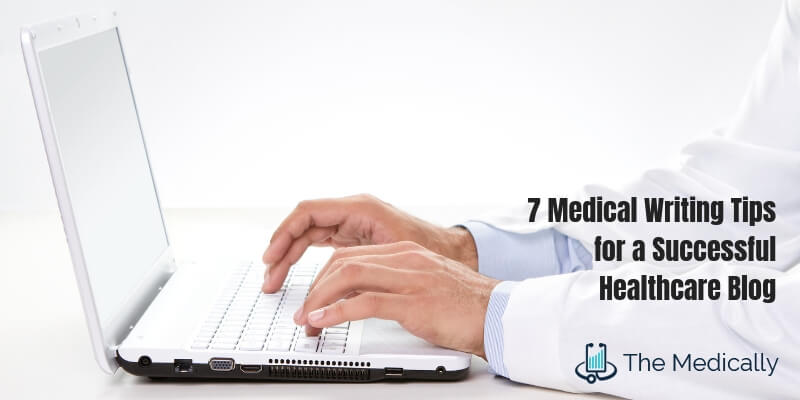 A good healthcare blog is the biggest advantage you can have over the competition.
It's not fluff, it's not useless.
With a well written and constantly updated medical blog you'll make your way up the search engines and convert more visitors into patients.
Writing a blog is not too difficult either, but there are some details you shouldn't miss, in order to really make a difference.
7 Medical Writing Tips to make your medical blog successful
Most of these tips are based on your visitors reading habits.
I tell my clients, until I'm red in my face, that online visitors don't read your website content the same way as they read books.

They scan the page, instead of reading every word of it.
Our eyes are drawn towards various areas in the page and it's almost impossible to read longer paragraphs without jumping rows.
It doesn't mean we are broken or illiterate (as some would claim), it's just that our eyes are not build to read screens like they read a paper book.
Once you understand this important tidbit, it's incredibly easy to build a website and medical blog that's easy to scan and yet can present a wealth of information.
Your readers will start scanning the page to find relevant content.
As soon as their eyes stumble across a large paragraph, they tend to ignore it and focus on something easier to scan (a large headline, an image, a blockquote, a list or a link).
If your content is easy to scan and answers their questions, they'll stick around and properly read the page, if not, chances are they'd become fatigued and look for another website. And this means a higher bounce rate for your website.
Now let's see how we can retain their attention and make them come back for more …
Don't use clever headlines
Yeah, I know, tabloids have built an entire business on clever and scandalizing headlines. We are not tabloids here, we are actually trying to build a respectable medical blog.
Use descriptive headlines instead.
Your visitors should know immediately they will read an article about miscarriage, for instance, and nothing else.
Your headlines have another purpose, they are one of the pillars of your search engine optimization job.
Google and other search engines crawl your website to get an idea about your content and headlines are one of the biggest SEO tools you have at hand.
Use an active voice
Change passive voice content into active voice: "our patients are treated well in our NYC practice" should change into "we treat our patients well in our NYC practice". You get the idea.
Use appropriate images, but not too gory
We all know medical images can sometimes be a little rough for your visitors. If you need to show a procedure, focus on the outcome or some images that are not too gory.
Publishing images that are too 'real' can actually scare off potential patients and make you lose business.
Consequently, if you have a dental site, for instance, you'll show an image of happy patients and not a mouth filled with cavities and blood.
Use links sparingly
Links are the lifeblood of all your search engine optimization efforts.
These links fall into 2 main categories: external and internal links.
External links are the links you place in your website that lead to other websites. For instance, on The Medically, we link to our clients' websites.
Internal links are also important, since you can send your visitors from an article or page to another page on your website.
You'll notice we also use this technique on our medical website portfolio and on all our supporting medical websites.
If you write about Cervical Cancer for instance, you'll probably want to link back to your gynecology services page and maybe to a Pap smear related article, since it's also relevant.
Anyway, while this method is a great way to boost your SEO results, don't over use it.
Don't place too many links in your copy, though. Not more than 3 in a paragraph since it's distracting.
Use italics and bold to draw attention to key elements in your content
Italic and bold words help your readers' eyes find important information to focus on.
Just like any other elements, don't overuse them. Bolding an entire paragraph make the text hard to scan and messy.
Same with CAPS LOCK. If an entire paragraph is in uppercase, your visitors will have a hard time reading it. Not to mention that on the internet, using CAPS LOCK is considered shouting.
Avoid the overuse of the same word
Try to use a thesaurus, so that you don't repeat the same word over and over. For example, in our article related to Invisalign, we use Invisalign aligners, invisible braces, Invisalign etc.
Explain, explain, explain
Most your readers (and potential patients for your medical business) are not medical professionals and have absolutely no idea of what you are talking about, when using too much medical lingo.
Of course, this doesn't mean you shouldn't read medical terms, it means you need to explain them and the procedures in layman's terms.
If you use abbreviations, write down the entire medical term afterwards, at least 1-2 times in your copy.
I mentioned SEO, but, as you have noticed, I also wrote down the entire term: Search Engine Optimization. This allows you to fully understand my copy and also introduce the acronyms we routinely use in our online marketing work.
These 7 medical content writing tips should give you an advantage over your competition, when it comes to your medical blog. If you need help with your medical content, drop us a line.