It's 2018 and you have no idea how easy is for me to recommend a content management system (a platform to run your medical website and content) – it's WordPress, without any doubt.
Before we go into more details about WHY I recommend it, let's take a trip down the memory lane so that you can see how it was back in the day, when we wanted to create a website.
I started with my web design passion in 2002. That was 16 years ago.
Back in the day websites were created in plain HTML. Then we started getting access to better hosting services at reasonable prices. Just imagine that 15 years ago, regular hosting (like you get now, that allows you to run a website platform on php for instance) would cost up to 100 bucks/month.
It let to us all using a so-called CMS (Content Management System), which is a platform that allows you to upload content easily. We'd use PhpNuke, then Etomite, then CMS Made Simple.
These are just few platforms that rose to fame in 2-3 years time, which meant we had to learn new systems all over again and get used to them all.
Fortunately for us all, clients and web designers, WordPress appeared more than a decade ago and we never looked back.
Right now, if a client of ours is asking us to create a medical website for their practice, we just tell them: get WordPress.
Here are the main reasons we advise you to use it: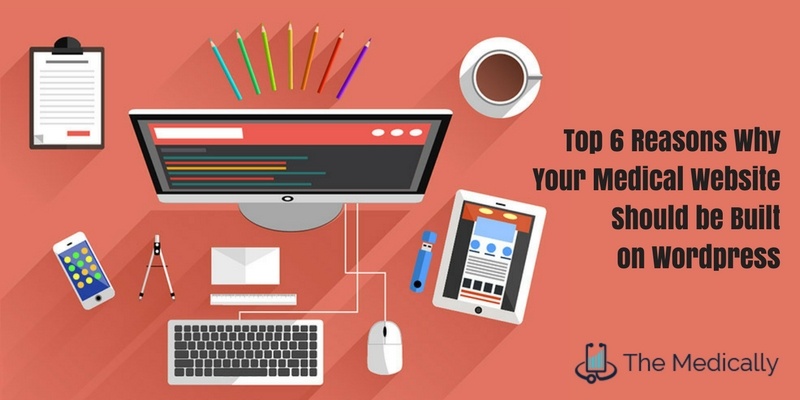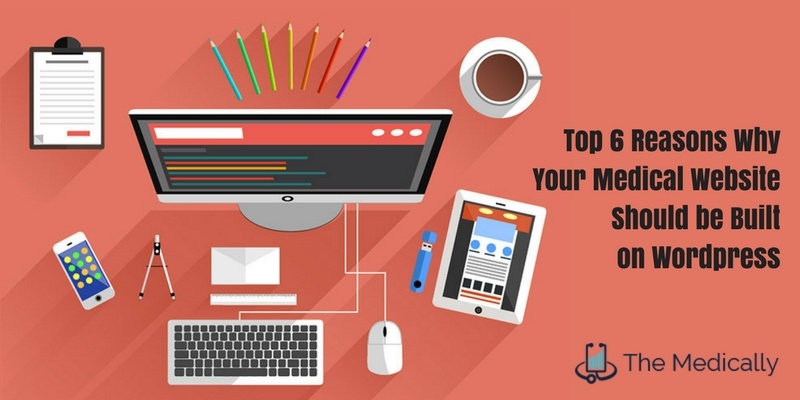 WordPress is free to use
Our clients know that a good website is not done for free or very cheaply. Good web design costs money, so do medical practice marketing and SEO campaigns created to boost your medical business.
The good thing is that WordPress is free, so you don't have added costs. Of course few hundreds bucks (the most anyone would pay just for their platform) is not the end of the world in your web budget, but this means you can use that money to run a Facebook Ads campaign. Or promote on LinkedIn or Google Adwords.
It's used on millions of websites
In the past years many people turned to WordPress to run their websites. Right now it powers brochure websites, forums, e-commerce sites, online magazines and so on.
This allows you to have ready access to thousand of web professionals who can help you set it up and it also makes WordPress a very robust system.
It's versatile and extremely well built
Being used on such a large scale allowed WordPress to become a powerhouse: it has a lot of important features out of the box, it's well coded and strong.
WordPress is very easy to use
I have many clients who needed few days to get used to it and run it like a pro. We usually have a 'how-to' session at the end of each project, so that our clients can learn the ins and outs of their WordPress installation. Suffice to say that most of them learn to use it in minutes.
Once you have your WordPress site professionally set up, creating content on it is just like writing an email.
A SEO powerhouse
Google LOVES WordPress sites and, by installing few important plugins (such as Yoast SEO or All In One SEO Pack, whichever you like), you'll be able to rank faster in your niche than if you used other platforms.
Very customizable
Would you like to present your medical business on your website? 5 pages tops? You can. Would you like to add a medical blog as well? You can. Would you like to add other features, such as a medical directory? A Q&A (questions and answers) section? Again, you can.
WordPress has tens of thousands of plugins (bits of code that allow any functionality you could dream of). In the app world there's a saying 'there's an app for that'. Well, when it comes to WordPress and you want something new, 'there's a plugin for that'.
There are also translations for many languages and tens of thousands of theme designs you can download for free or buy with few tens of bucks. We don't advise our clients to use such designs, since they are not customized for your needs, but, if you do need to test them out, you'll find many to choose from.