The moment a new client signs up for our healthcare marketing services, the first thing I tell them is: 'you'll need a medical blog'.
I won't get into detail about WHY you should have a medical blog, it's one of the best strategies for you to employ in order to get more prospects on your website and turn them into patients, then raving ambassadors for your healthcare business.
Here are the 7 biggest tweaks you should be making to your content in order to really maximize the impact it will have on your prospective 'clients':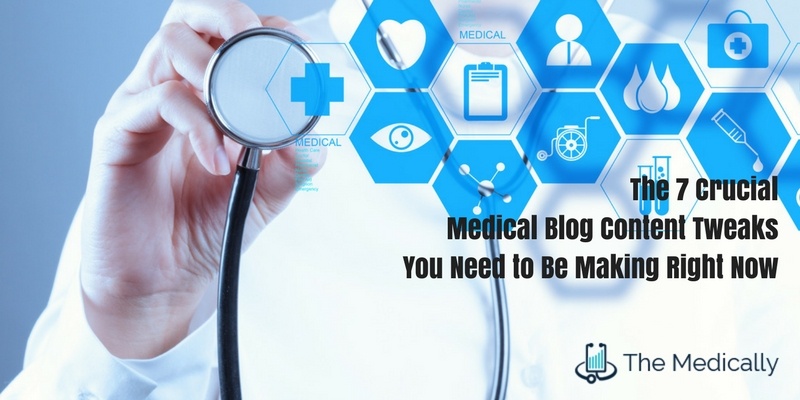 Don't be shy to use questions in your headlines
As a medical professional you clearly know what your target audience wants to know about various illnesses or other health related issues. You can express one of their questions and then provide the answer in a well researched article.
It works great since people are curious by nature, you'll be able to clearly address their problems and it's also great for SEO (since many use questions as search phrases).
Here are few examples of such question headlines that can turn into great medical articles:
'Not able to conceive? Here are 5 tips to increase your chances.'
'Should you have intercourse during pregnancy?'
'Don't know if you are pregnant? 10 sure ways to know.'
Lose the medical lingo
It's difficult to write about medical conditions and not use medical terms, but doctors tend to get too carried away and use a more elevated 'speech'.
If you do have to use medical jargon, make sure you explain it to your readers. If you mention a certain disease, you can also quickly write a short and easy to understand definition, if you need to write about a medical procedure, give a short explanation etc.
Most of us, who specialize in a certain industry, tend to get too specific and forget that our target clients are not as versed in this terminology as we are.
Hence the reason we should write simple articles, well explained and easy to understand.
It doesn't mean we underestimate our readers, it's just an effective way to make our content easy to 'digest' and really educate our visitors.
Experts in content marketing claim that your articles should be easy to understand by a 12 year old. If not, you'll lose your audience's interest and … a lot of potential business.
Write about their pains, not your achievements
Most people love to talk about themselves, so a lot of medical blogs are filled with useless articles about the doctor's great achievements, news from the practice etc.
Don't get me wrong, it's absolutely OK to promote your work, it's your website after all.
But, just as you care more about yourself, so do your potential patients.
One question all of our target clients are asking themselves is "what's in it for me?". So, with this in mind, provide useful articles. Share information about diseases they care about. Write about great procedures that will make their lives better.
Present diets to keep them healthy. Inform, inspire, help!
Short paragraphs, lists and headlines
Your medical blog is not a book.
Your readers scan the content, they don't 'read' it like a book.
So, there's no reason to have loooong sentences and huge paragraphs.
Break them down.
Write short sentences.
Break the long paragraphs.
Use lists, images, headlines to break the content even further and make it easier to read.
See what I've done in this article?
It's not like I don't know how to write a 'proper' sentence, but I know that content, presented this way, is easier to scan and enjoyed by my readers. I also use bold and italic, links to other useful articles, bullet points and everything that makes your reading easier.
Write as you'd talk to a friend
Don't try to impress anyone with your medical copy.
Just deliver the information in a friendly relaxed manner. This is not a medical textbook, it's a medical blog that should allow ALL your patients to get educated and see you as an authority in your field.
Weird enough, you don't need to use pompous sentences, you'll do a great job with a friendly tone and easy to understand articles.
One of our healthcare marketing clients (from a local OBGYN clinic) told us their patients really enjoyed the articles we provided for their medical blog, since they were not sounding like an article from a medical book, which regular folks find difficult to understand.
Don't write crappy content just to get an article published
Few years ago most content marketers would advise their clients to write 300-500 word articles, regardless of quality, just to get content on their websites.
Most of these articles were clearly sub-par, but they would help with the search engines optimization (SEO), by providing more pages for Google to index.
All these articles would get inter-linked and … voila, better rankings.
Fortunately, in the past years the search engines curbed their enthusiasm for crappy content, and the trend is now for 'meaty' articles, filled with great information.
Of course, you should still write articles that have a similar topic (break down some huge articles in more articles, each dealing with a separate sub-topic) and cross-link them, but the content should be of exceptional quality.
Not only will your still do great in your SEO endeavors, but your articles will be shared by the community and this means free traffic.
Please, don't write about your vision
If I had a dollar for each 'our vision' page my clients wrote on their websites, I'd be really rich.
Most of them think such pompous articles will impress their potential clients. Unfortunately, the exact opposite happens: people get bored and just leave your page.
I usually tell my clients that their vision should be to earn as much money as possible, by providing some excellent service to their patients/clients.
Again, we need to remember that our clients don't care about us, our visions of how we see our businesses 5 years from now.
They care about their pains and problems. In this case we need to find solutions that work and write about them.
In conclusion: your medical blog should inform and educate patients. Write about their conditions, procedures and anything you find useful.
Do it in a natural friendly way, making sure you don't get too carried away with medical jargon